It takes more than 100 volunteers to complete a wide variety of pre-race and race-day tasks in order for the Turtle Krawl to be the successful event that it is. If you are interested in volunteering for this year's race, please click on the VolunteerSpot image below and sign up for the tasks you would like to help out with. One of our volunteer coordinators will get in touch with you with details about your specific task(s) closer to the time(s) you are needed. If you have any questions, the Turtle Krawl volunteer coordinators can be reached via email at [email protected].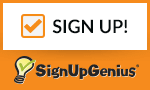 Don't have time to bake muffins or live too far away to volunteer for our Turtle Krawl? You CAN still help us! Coastal Produce in Cocoa Beach has partnered with the Sea Turtle Preservation Society. They will accept orders via phone for muffins at the price of $14 for 2 dozen, which will be delivered prior to the race! Coastal Produce is located at 25 N Brevard Ave, Cocoa Beach, FL 32931 and can be reached at 321-613-4663. Help us make our Turtle Krawl a successful one! Order muffins to donate today!
[OPTIONAL] After you have registered as a Turtle Krawl volunteer above, we will send you a discount code to use to purchase an official Turtle Krawl shirt at cost through 8/31/19 (limited to the first 100 volunteers):
Men's/Unisex, Women's and Youth Size Charts
You will be given your shirt when you arrive for your assigned task… if you do not show up, you will not be given the shirt, nor will your $10 be refunded. Sorry if this sounds harsh, but we have to do it this way to prevent people from abusing this. To purchase a Turtle Krawl shirt at cost, please click here.
We are happy to accept student volunteers looking for community service hours, but they may need to be with a parent or adult chaperon, depending on the task.
If you are interested in volunteering for other Sea Turtle Preservation Society activities (Guided Turtle Walks, Nest Surveys, Turtle Strandings, Educational Presentations, Beach Clean-Ups, etc), please visit the STPS website for more information.